The MTV Video Music Awards opened with a special dedication to the late actor Chadwick Boseman.
The "Black Panther" star died at the age of 43 after a years-long battle with colon cancer, a statement on his official social media channels confirmed on Friday.
As the show began, host Keke Palmer offered a brief video message in honor of the actor.
CHADWICK BOSEMAN'S 'BLACK PANTHER' DIRECTOR RYAN COOGLER PENS TRIBUTE TO LATE ACTOR
"Before we get into the music tonight, we need to talk about the devastating loss of Chadwick Boseman, an actor whose talent and passion is a true inspiration to all the fans he touched and everyone he encountered," she said.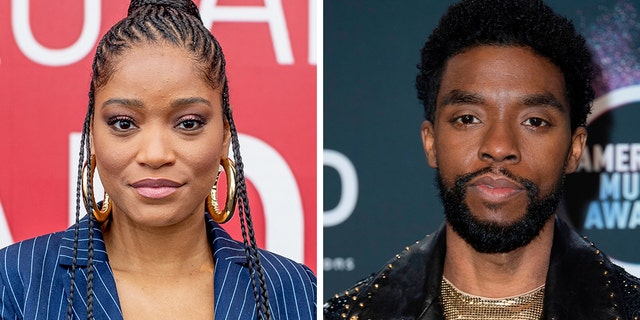 Keke Palmer (left), host of the VMAs, dedicated the evening to the late actor Chadwick Boseman.
(Getty Images)
She added: "We dedicate tonight's show to a man whose spirit touched so many. He is a true hero. Not just on-screen but in everything he did. His impact lives forever."
The announcement of the actor's death confirmed that his wife, Taylor Simone Ledward, was by his side when he passed.
KEKE PALMER HOSTING MTV VMAS AT BROOKLYN'S BARCLAYS CENTER IN AUGUST
"A true fighter, Chadwick persevered through it all, and brought you many of the films you have come to love so much," his family said in the statement. "From Marshall to Da 5 Bloods, August Wilson's Ma Rainey's Black Bottom and several more- all were filmed during and between countless surgeries and chemotherapy. It was the honor of his career to bring King T'Challa to life in Black Panther."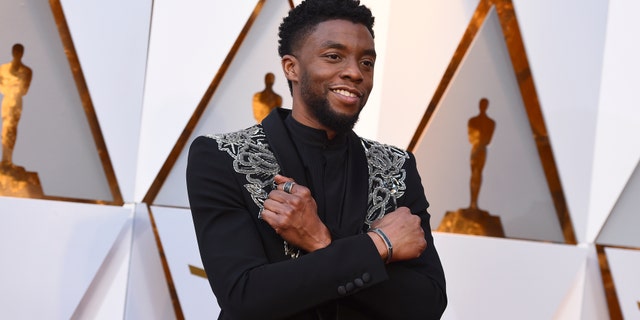 Chadwick Boseman recently died at the age of 43 after battling cancer. (Photo by Jordan Strauss/Invision/AP, File)
The "Hustlers" actress also addressed the Black Lives Matter movement during her introduction.
"As rough as it's been, there have been incredible moments of inspiration that have given my generation hope," said Palmer, 27. "We've seen heroes going above and beyond, whether they drive a delivery truck, work at a grocery store, or serve on the front lines in a hospital. And with the Black Lives Matter movement, we've seen our generation step up, take to the streets, and make sure our voices will be heard. Enough is enough!"
STARS ATTENDING VMAS FROM OUT OF STATE WILL NOT BE SUBJECT TO NEW YORK QUARANTINE MANDATE
She continued, calling the recent shooting of Jacob Blake by a police officer in Kenosha, Wis. "yet another devastating reminder that we can't stop," and insisted that "we can never tolerate police brutality or any injustice.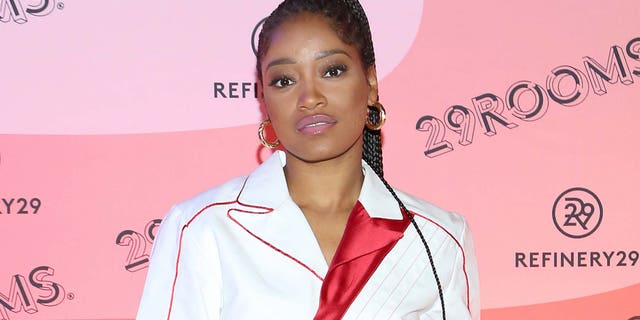 Singer and actress Keke Palmer served as the host of the 2020 MTV Video Music Awards and offered support for the Black Lives Matter movement. (Photo by Monica Schipper/Getty Images for Refinery29's 29Rooms)
"We must continue the fight to end systemic racism," she said, urging viewers to come together to effect change.
"Music has that power. Music can help us heal," she said. "It's all love, and that's what tonight is about."
Following the introduction, The Weeknd offered a performance of his hit "Blinding Lights," which is up for video of the year.
2020 MTV VMAS WILL NO LONGER BE AT BARCLAYS CENTER, NETWORK SAYS
The Weeknd's video is also up for artist of the year, song of the summer, best editing, best cinematography, best direction and best R&B.
The evening's other top nominees include Lady Gaga, Ariana Grande and Billie Eilish.
Shortly after the performance, Lady Gaga and Ariana Grande took home the award for best collaboration for their song "Rain on Me" before Miley Cyrus performed her newest song "Midnight Sky," while swinging on a disco ball.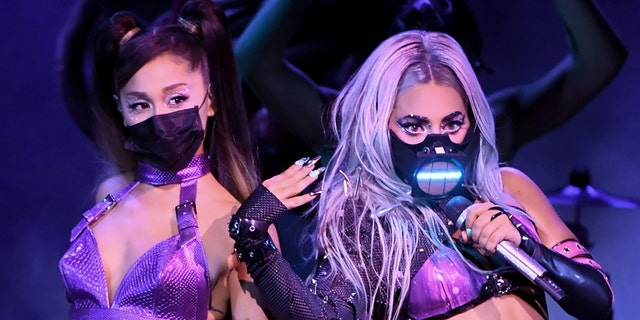 Ariana Grande (left) and Lady Gaga perform during the 2020 MTV Video Music Awards, broadcast on Sunday, August 30th 2020. (Photo by Kevin Winter/MTV VMAs 2020/Getty Images for MTV)
Following that, Drew Berrymore presented the award for best direction to Taylor Swift for her video for the song "The Man," which saw her transform into a man using makeup.
Another one of the evening's early performances came from rapper DaBaby, who offered up a medley of some of his most popular tunes while shedding light on police brutality by appearing in the back of a police car driven by two officers wearing coronavirus facemasks.
2020 MTV VMAS: MILEY CYRUS DAZZLES IN SPARKLING SHEER DRESS, SWINGS ON DISCO BALL DURING PERFORMANCE
Several more stars took to the stage throughout the night including BTS, who performed "Dynamite" and Gaga, who brought Ariana Grande along to perform "Rain on Me" as part of a mashup of some of her recent songs.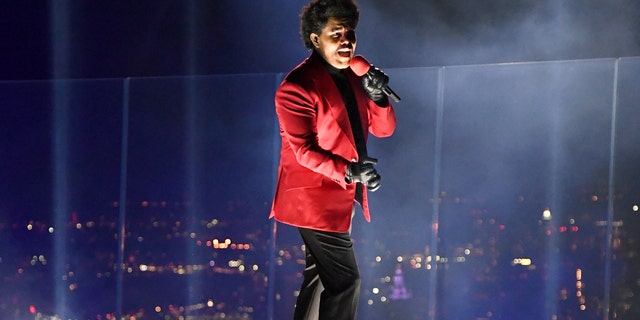 The Weeknd performs at Edge at Hudson Yards for the 2020 MTV Video Music Awards, broadcast on Sunday, August 30, 2020 in New York City. (Photo by Kevin Mazur/MTV VMAs 2020/Getty Images for MTV)
Before Gaga would once again return to the stage to win artist of the year, The Weeknd — born Abel Makkonen Tesfaye — bagged the award for best R&B but said in his acceptance speech that he found it "really hard … to celebrate right now."
"Justice for Jacob Blake and justice for Breonna Taylor," he said during his brief acceptance speech.
Gaga also took home the first-ever MTV Tricon award for her contributions to music and film. In her speech, she also urged fans to make the world a better place.
CLICK HERE TO GET THE FOX NEWS APP
"Wear a mask," she concluded. "It's a sign of respect."
The evening concluded after The Weeknd earned video of the year, followed by a performance from The Black Eyed Peas, who stated that "Black Lives Matter."