California elementary school students hurt after plane apparently dumps fuel over playground
LOS ANGELES – More than 50 people were treated for minor injuries after a Delta Air Lines flight bound for Shanghai, China, dumped fuel over an elementary school playground and surrounding areas Tuesday as it was making its way back to the Los Angeles International Airport (LAX), officials said.
At least 20 children and 11 adults at Park Avenue Elementary School in the Los Angeles suburb of Cudahy were treated after exposure to the jet fuel, the Los Angeles County Fire Department said.
The department later said 23 more patients from three nearby schools — Tweedy Elementary, Graham Elementary and San Gabriel Avenue Elementary — in surrounding cities were also treated. All those assessed declined transportation to hospitals and were released.
Fire crews with the Los Angeles Fire Department, serving the city of Los Angeles, responded to two schools — David Starr Jordan High School and 93rd Street Elementary School — where another 16 people were evaluated, LAFD spokesman Nicholas Prange told Fox News.
Flight 89 took off from LAX just before 11:30 a.m. local time and landed back at the airport before noon, LAX spokesman Heath Montgomery told Fox News.
"We are deeply concerned about reports of impacts on the ground from the fuel release, and are in close communication with Delta and first responders as their investigations continue," the airport tweeted.
Separately, a Delta spokesperson told Fox News: "Shortly after takeoff, Flight 89 from LAX to Shanghai experienced an engine issue requiring the aircraft to return to LAX. The aircraft landed safely after a release of fuel, which was required as part of normal procedure to reach a safe landing weight."
The airline noted it was in touch with Los Angeles World Airports and the LA County Fire Department.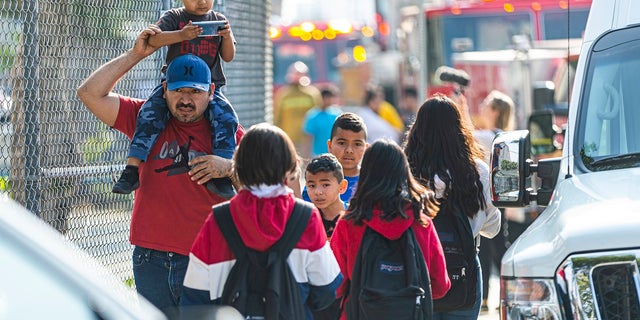 Children evacuate the Park Avenue Elementary school in Cudahy, Calif., on Tuesday. Fire officials say fuel apparently dumped by the aircraft returning to LAX fell onto the school's playground. (AP Photo/Damian Dovarganes)
The Los Angeles Unified School District said students and staff at Park Avenue Elementary "were on the playground at the time and may have been sprayed by fuel or inhaled fumes."
DELTA MAKES LARGE PLEDGE FOR AUSTRALIA WILDFIRE RELIEF
No one was hospitalized and officials made no evacuation orders.
The specific mechanical issue was not disclosed.
The Downey Fire Department reported that some of the fuel affected the north and west parts of the city. The department sent a 911 phone alert urging people and businesses to close doors and windows to avoid the odor.
CLICK HERE TO GET THE FOX NEWS APP
The Federal Aviation Administration (FAA) told Fox News it was investigating the incident.
"There are special fuel-dumping procedures for aircraft operating into and out of any major U.S. airport," the agency said in a statement. "These procedures call for fuel to be dumped over designated unpopulated areas, typically at higher altitudes, so the fuel atomizes and disperses before it reaches the ground."